What's your experience with free, outdoor, live music venues? Mine is pretty hit and miss. I'm happy to chance across one, but I won't make an effort to go. Most of the time.
I got this email from a friend. A workmate plays in a band yada yada performing in your neighbourhood yada yada join us, it'll be fun. Ummmm. Also, dinner beforehand. OK, good food and company even if the band sucks.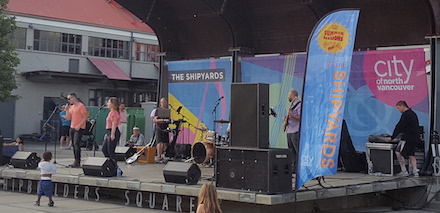 The Sythetics start their show at The Shipyards, North Vancouver
The band in question is The Synthetics. They play high energy rock hits from the 80's. And they don't suck! The three hour concert consisted of favourites like White Wedding/Rebel Yell (Billy Idol), Take on Me (a-ha), She Bop (Cyndi Lauper), Space Oddity (David Bowie), Love is a Battle Field (Pat Benatar), and Sweet Dreams (Eurthymics). I loved how they caught the style and sound for each song. Much fun was had singing along to these old favourites and others.
Continue reading The Synthetics at The Shipyards