Surrey Surplus Safari
By Dale McGladdery
April 11, 2002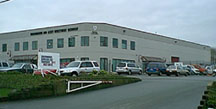 Warehousing & Asset Investment Recovery
Surrey, BC
It's Thursday and you've just arrived at the Warehousing and Asset Investment Recovery branch of the BC Ministry of Management Services in Surrey, are you:
Still untangling your tongue after saying the name?
No longer curious about what happens to PST withholders?
Lost in the wilds of Surrey wondering if you'll get out alive?
Looking for a potential bargain at a Government surplus sale?
That peculiar breed of inbred Vancouverite who considers crossing any bridge in their SUV an adventure might select number 3. The real answer is number 4, and there are some deals to be had.
Warehousing and Asset Investment Recovery looks after the disposal of "tangible assets which are surplus to government's needs." This currently includes Federal Crown assets as well. Nearly every Thursday the Surrey location has both a "cash 'n carry" sale and a closed bid auction from 10am to 2pm. In spite of the sale name they do take Visa, Mastercard and debit cards. Scheduled sales dates and items for the auction at the Surrey location are available at their web site.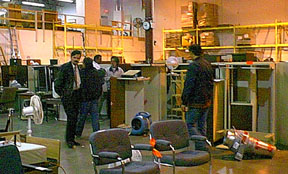 Cash 'n carry - First come, first served.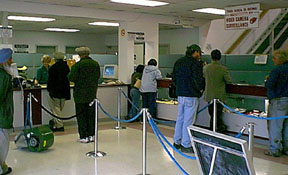 Watches and jewelry on the right, payment on the left.
The day I was there office furniture was available aplenty. Desks, filing cabinets, chairs, tables and modular furniture filled the display floor. Prices started at $10 and I didn't see anything priced over $100. Though some of the stuff looked in rough shape there was a lot that was quite serviceable. Getting there later in the day I could identify the better looking stuff by the red "sold" tag attached to it. According to a posted condition of sales sign these successful bargain hunters get three days to take it home or it isn't theirs anymore.
Given they also sell customs seizures there was nice little collection of watches and jewelry for sale, too. My partner in crime that day, who is a much better judge of such things, commented they had a pretty good price/quality ratio on the stuff that wasn't junk.
I was on the hunt for electronics. They claim to handle computer and radio equipment but if any had been on sale that day, it had already been "cashed and carried." All I saw was was a rack full of monitors and a wire bin of original Macintoshes piled up like so much fire wood in a "no public access" storage area. Sadly, old desks recycle better than old computers. That stuff wasn't even in good enough shape to ask about. Maybe another Thursday.
If you're a bargain-positive kind of person add this to your list of haunts. You might even run into me ... I'll be the one kicking myself for telling everyone about it!