Wireless Internet Access Available Here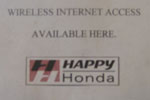 It's quite common to see a sign stating "Wireless Internet Access Available Here" at a coffee shop. Common enough that I'll look for a cafe when I need to kill time while "out and about", like when my car is being serviced. Sure, loaners are usually available if I book far enough ahead, but they don't like doing it for small services and these days I'm thinking about carbon footprint. So it was, laptop in hand and grimacing at the rain, I was about to head out in search of wireless and coffee when I saw my car repair shop had joined the wireless club! And they even have a cubicle desk to work at and complementary coffee that isn't crap.
So here I am sipping a coffee and making my first October blog post instead of wasting time in a loaner car driving home and back or wandering aimlessly down Hastings Street in the rain. I like it!