Why a Vernon Christmas Rocks

Traveling any distance in the winter, especially during the holidays, is seldom worry or hassle free. In spite of this, I become part of the thronging masses that join their family for Christmas. In no particular order, here are some of my reasons.
My sister makes a great cappuccino
There's a love of espresso in 2 of the 3 sibs, as well as my sister's husband (who also makes a good cappuccino). Getting a cappuccino in the morning might seem like a small thing, but it provides great pleasure.
Doing the bookstore crawl
I've talked about this before in my Easter 2008 post. Vernon has a couple of used book stores I enjoy visiting. My Dad usually joins me, or maybe I'm joining him. This year the power was out at the Book Nook because of some building power issue. The owner apologized and said he had a flashlight if we still wanted to look around. Indeed we did! My Dad scored a Louis L'Amour novel he hadn't read, a rare occurrence, and I found some interesting sci-fi.
Taking the dog for walk
I would love to have a dog. Since my apartment doesn't allow it and I'm not sure I could properly look after one on my own, I live vicariously through other dog owners. This is Nikita, my sister's dog. It took a long time for Nikita to warm up to me, she is generally skittish around men, but now we're walking buddies. It's too much fun watching her enthusiastically sniff out game. Too bad that bastard holding the lease won't let go.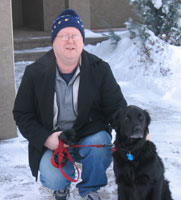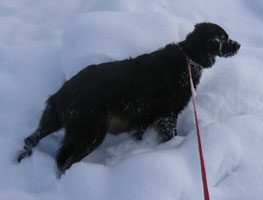 Hot tub
Good company and a nice setting. Bare feet on snowy concrete means no dawdling between the tub and the door!
I always feel grounded afterwards
Sometimes it doesn't last very long, but getting a break from the routine almost always leaves me feeling better.
The Christmas tree
I've just never gotten motivated enough to put one up in the apartment just for just me, but I do like them!
My Dad's home made moose jerky
Nearly every year my Dad brings along something home smoked or cured. This year it was moose jerky. Other years it's been smoked fish. He's constantly tinkering with the recipe, so I'm never quite sure what to expect. It's almost always good, though. I took a picture, but a food photographer I'm not. Mom usually does a batch of caramel corn, too.
Christmas dinner
'nuff said.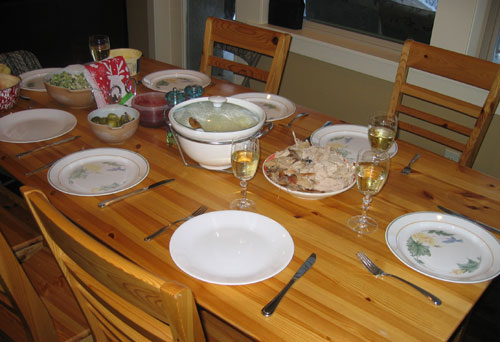 The Family
With everyone living in different places it hard to stay in touch. I'm increasingly thankful for the official holiday reminders that it's time to renew ties. We were talking about how hard it is to buy Christmas presents when we don't know what's going on in each others lives. Now that my niece and nephew have graduated high school even more so with them. Someone suggested perhaps we should forgo presents, I think I should try harder to stay in touch throughout the year. We didn't take a family picture this Christmas, but here's one from a past Thanksgiving where my brother and his wife also made it up.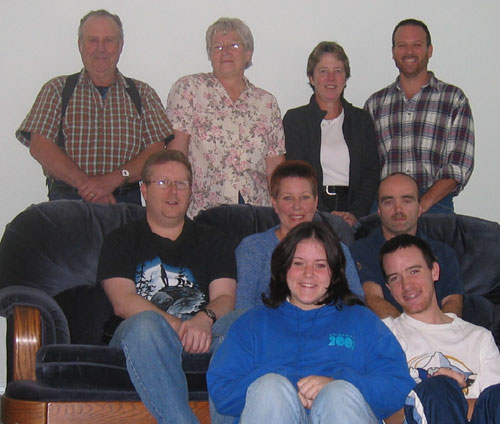 I hope your holidays were equally as good, however you define them!