Happy Anniversary Granville Island Brewery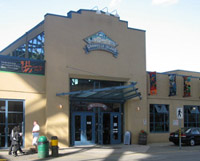 Granville Island Brewery (GIB) is one of the first things you see entering Granville Island and the first microbrewery in Canada. Last Wednesday was "twitter follower appreciation night" at GIB and I was there!
The night was a lot of fun but the real highlight was, no surprise, the beer. This is GIB's 25th year of brewing, and they've marked the occasion by creating a new beer: Brockton IPA — It's delicious!
Brewmaster Vern Lambourne has created a wonderful beer. If you like mild beers this isn't for you. Brockton IPA has an attitude and I like it, especially the little aftertaste tingle.
And to top the evening off, I won a door prize!

Dale, door prize in hand, with Brewmaster Vern Lambourne
Here's some other pictures from the evening: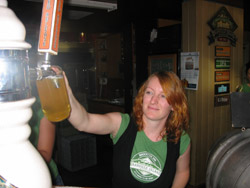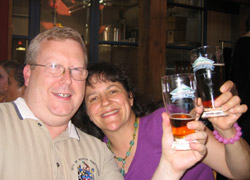 I remember back in the 80's when Granville Island Brewery first hit the scene. The beer landscape was pretty dismal. To get a good beer my friends and I frequented The Fogg 'N Suds near UBC, then famous for a huge beer menu and their "Around the World in 80 Beers" passport club (I made it to 40). GIB lead the way giving us domestic beer worth drinking.I still have a special place in my heart for Granville Island Lager. It's hard to believe it's been 25 years.
Happy anniversary Granville Island Brewery, Vancouver got nicer when you arrived. Congratulations on 25 years and a great new beer! Brockton IPA is well on its way to joining Winter Ale as one of my favourites. A few more sampling sessions are required …
If you want to follow GIB on twitter, they're: @ItsGoodToBeHere