Toy Traders
Yesterday my friends introduced me to a store that has my vote as THE best toy store in the greater Vancouver area. It come up in conversation at Sunday's Dublin Crossing brunch when I asked if there were any good toy stores in Langley (I had a birthday present to buy). "Didn't I know about Toy Traders" they asked, a little surprised? Well no, I didn't. That's fixed, now.
Toy Traders is located on the Langley Bypass across from Willowbrook Mall. I'd have never found it on my own. If by some remote chance I had seen the store front but only peeked through the door, I'd have walked away. As you enter the store your first sight is toys for kids under 10. It isn't until you walk past the first row of shelves and see a full sized R2D2 that you get an inkling of the figurine and action figure goodness that awaits you.
I'm not a hardcore collector, so couldn't comment on their stock with any degree of authority. I found a great selection of mini-mates, figurines/action-figures, and various other fan stuff like signed Battlestar Galactica figures and used GI Joes of the 12" variety (not mint). They also had new and used toys for younger kids. About the only thing they didn't have is a large selection of adult games like Flux, Puerto Rico, or Trans Europa, though they did have The Settlers of Catan and Carcassonne.
Here's some photos of only a few of their dioramas and displays. Even though they're fairly large, clicking gets you an even larger version so you can appreciate the detail.

Leading section of the Star Wars diorama

Comic character mash-up diorama, including Spiderman, Ghost Rider, and Silver Surfer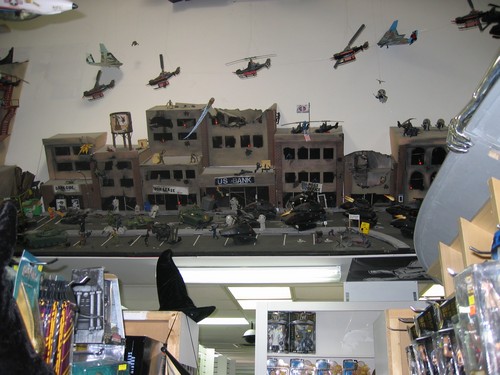 G.I. Joe Diorama

G.I. Joe Diorama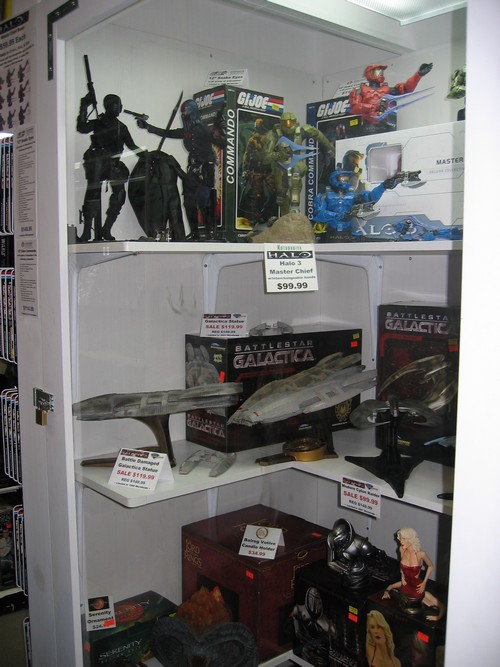 One of many display cases. This one included Battlestar Galactica, G.I. Joe and Halo.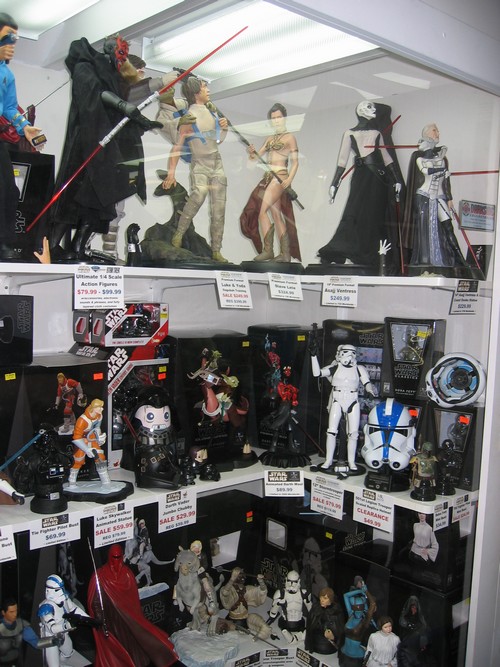 One of many Star Wars displays.
I also found this video on YouTube. It doesn't show a lot of detail but gives a better sense of the space than my pictures do.

Direct link: Toy Traders Layout
I found a birthday present and my friend scored an X-Box game at a lower price than he'd seen at Future Shop or EB. It was a good day.
I grabbed one of their business cards. Here's the details (they don't list a website):
Toy Traders
#150 – 19888 Langley Bypass [ Google Map ]
Langley, BC V3A 4Y1
Phone: 604-532-9516
Update July 9/09:
Just discovered they take Canadian Tire money at par. If you're trading be aware the trading hours are different from the store hours.
Update Feb 11/10:
They have a website, now: http://www.toytraders.net
5 comments