View from a Bridge: Golden Ears Bridge Opening
Today a couple of friends and I checked out the Golden Ears Bridge event. Given most of the bridges in Vancouver have interesting views I wanted to check out the lower mainland's latest infrastructure addition. And the thought of being able to do it without cars zooming by had an appeal.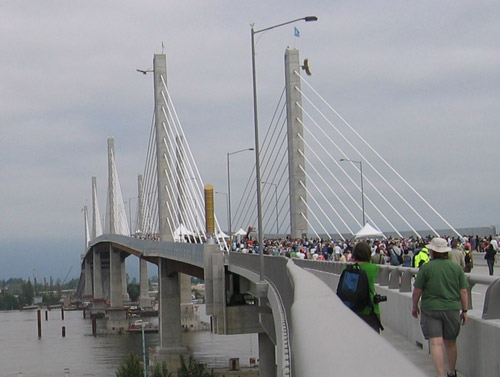 The Translink event description [PDF] read:
Bridge Deck Opens — pedestrians only [...] Check out the Interactive Exhibits and the VIEW!
We got there and discovered that while the bridge's car lanes were mostly open to pedestrians the sidewalks were closed! Barred from the sidewalk and standing in car lane this was "the VIEW" looking through the bridge's protective barrier:

"Jail" View from Car Deck
Actually, to be accurate, they tried closing the sidewalks. People did what you'd expect and used the sidewalk anyways.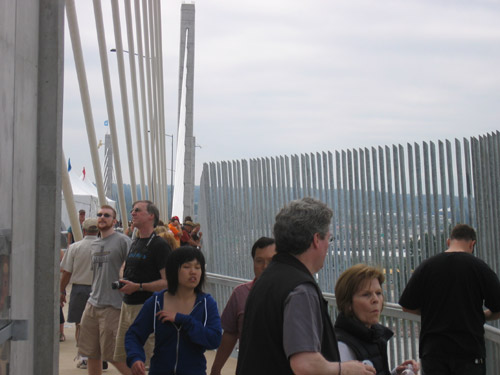 Sidewalk Closure Mostly Ignored
The West side car lanes on the North end of the bridge were blocked to pedestrians, and this was the only section of sidewalk they seemed serious about keeping people off of.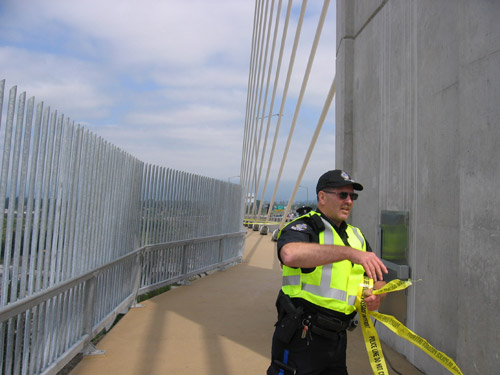 This Sidewak Section is Really Closed!
Move along, nothing to see here.
Whether by plan or capitulation the east sidewalk appeared officially open to the public by the time we left.
The view is interesting, but not comparable to the Lions Gate, Second Narrows/Iron Workers, or Alex Fraser bridges.
I didn't realize how much industry there was that far up the Fraser river.
Here's some of pictures of the crowd waiting to get onto the bridge, the bridge deck, and the festivities. We really didn't pay much attention to the festivities, they were mostly in the way.
And what's an outing without at least one movie reference: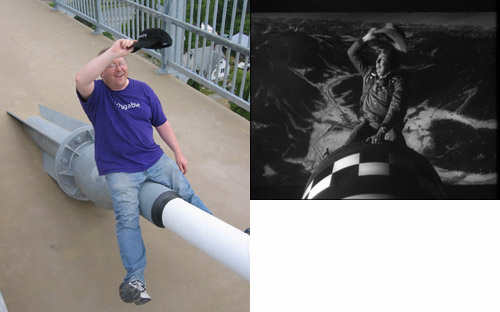 Dr. Strangelove or: How I Learned to Stop Worrying and Love the Bridge
We left the bridge around noon and the crowd was already large enough to be a pain in the ass. I can't imagine what it was like by the end of the day.
The most interesting part of the outing was definitely the view from the sidewalk and, ironically, because of the pedestrian only event I couldn't get as complete a view as I'll be able to do when the bridge is open to traffic. So dear Translink, next time you're opening infrastructure how about making it a two day event: One for the hoopla, and the other for people who want to, you know, look at the infrastructure.
3 comments