Postcard TLC
Is this not an awesome postcard? Thank you Kimli, may your scooter eat Kawasaki Ninjas alive!
How did Kimli come to send me a missive from the future, you ask? This: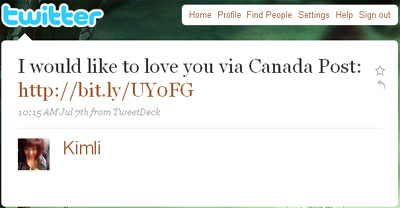 Lead to this: let me love you
I have a significant number of interesting and dazzling things meant to be sent through the mail. Conveniently, people like getting mail – especially when it is fun mail. Why don't we put the two together and see what happens?

If you would like to receive a saucy postcard, email me your address: kimli at delicious juice dot com; subject line: POSTCARD! – and I will send you a fun card of my choosing with a personalized message. It's easy and fun and I promise I am not a creepy stalker of any kind (seriously, I can provide references).
Which lead to: See beginning of this post.
2 comments