Handy BC Travel Websites
If you're travelling in BC, especially when there's a risk of snow, there are a couple of websites you'll be glad to know about!
The BC Ministry of Transportation runs the website: drivebc.ca.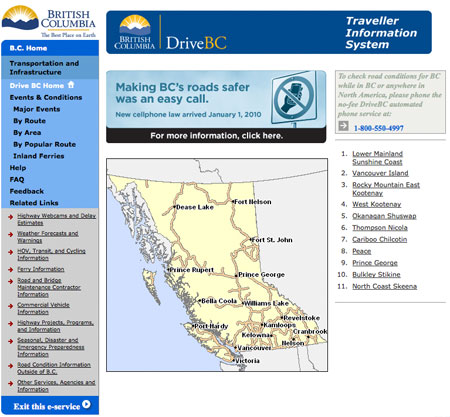 It isn't immediately apparent from the home page, but there's a lot of good information contained within. Click on Related Links and you'll see It contains, among many things, webcam pictures from highway traffic cameras, info on construction delays, and estimated border wait times. And everything has a unique URL so you can bookmark pages of interest.

When would you rather drive?
The second website is Environment Canada's: Weather Office. It has current weather and 5 day forecasts for towns and cities across BC.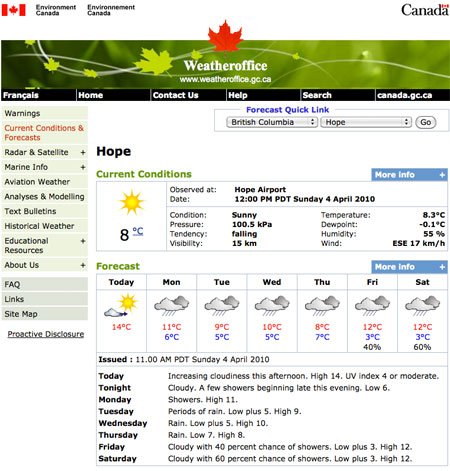 Using both of these sites you can get an idea of what to expect on your trip. If you're fortunate enough to have some leeway in travel days, you can make informed decisions on the best day for traveling. On routes that I regularly travel I bookmark pages in a browser bookmark folder and use the "Open All in Tabs" option when I want to scan the latest route situation.
A few things to keep in mind:
It helps to know the geography of your route. If there's a winter rain in Hope you can pretty much guarantee it's snowing on the Coquihalla highway, which is in the adjacent mountains.
The highway reports cover a large section of highway and need to be taken with a large grain of salt. On one trip I took the road report for the Fraser Canyon noted "some blowing snow". On a short section of highway there was enough blowing snow to create total white out conditions.
If you're traveling in the winter and it's cold and wet, black ice is an issue, even the reports don't mention it.
Have any handy websites of your own to share? Please do in the comments!