The Secret Outlook At Lonsdale Quay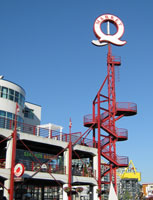 If you've Seabussed to North Vancouver or walked around Lonsdale Quay you've seen the red tower with the rotating Q on top. Did you know the tower platform is open the public? If you answered no, don't worry, you're not alone. Tower access isn't well advertised and most people, including North Vancouver locals, are unaware that the best public view on lower Lonsdale is only a 30 second stair climb from the Lonsdale Quay Market.
Wondering where the tower entrance is? Hiding in plain site!
The observation platform stairs are located at the south east corner of the second floor outdoor area (not sure what to call it: balcony, promenade, mezzanine?). If you don't know your compass directions, don't worry. Just get yourself to the second floor and head for the tower. Stairs to the second floor outdoor area are located at the front and side of the main building, and there is also access from the second floor of the public market. The tricky part is the tower stairs are located in the Eastside Mario's outdoor seating area. Yes, this means you have to walk through the outdoor tables to get there. If you approach on the east side, you'll also walk through the Cheshire Cheese Inn outdoor seating area.
Walking up the stairs brings you to a third floor outdoor area and finally to the observation platform and it's most excellent view.
There you have it, the secret of tower revealed! Here are some pictures to whet your appetite until they day you can enjoy the view in person.
| | | | |
| --- | --- | --- | --- |
| | Lonsdale Quay tower up close at dusk | Lonsdale Quay tower from Lonsdale Avenue at dusk | Breezeway between Seabus and Public Market |
| Front (south) outdoor stairs to second floor | Top of front stairs looking towards entrance to outdoor eating area and tower stairs | Base of stairs to the tower observation platform | |
| Looking down from platform to Public Market plaza | Looking southeast from platform | | Looking towards Lonsdale Avenue |
| Looking down at the east side of the Public Market | Looking (west) towards Waterfront Park | | Foot of Lonsdale Avenue and new waterfront exhibit |
| | Seabus entering terminal at dusk | Burrard Dry Docks at dusk | |
2 comments