VSteam's One-Day Steampunk Mini-Con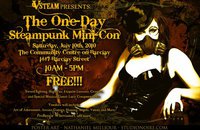 Last Saturday VSteam, Vancouver's Steampunk group, held a one day Steampunk Mini-Convention. What's steampunk? Wikipedia has as good a description as any: Wikpedia on Steampunk.
Organizing an event is a lot of work and VSteam gets high marks for the location and over-all organization. Picking Barclay Manor in Vancouver's West End was brilliant. While not Victorian the manor house and grounds gave the event a natural ambiance. The people in costume simply belonged there.
The most happening aspect of the mini-con while I attended was the vendor area. There was interesting stuff on display and since everyone was wandering through it was essentially a promenade for the costumes. There's a large grass area — not sure if you'd call it a small field or a large lawn — next to Barclay Manor. At various times there was a game of croquette, sabre fighting, fisticuffs, and, as I was leaving, a band was setting up.

Arcana Vendor Table
The mini-convention did less well on presentations. Though they had rooms for presentations there weren't a lot of sessions scheduled. Given they didn't issue a call for sessions, they did well with what they had. Still, for us introverts, conference sessions are a great way to find out more about the community and meet people. Sadly, there didn't seem any other opportunities for new folks to engage with the existing community.
The VSteam Mini-Con was a pleasant way to start my Saturday. There were great costumes and great energy. Kudos to the organizers. People have posted some pictures on the Facebook wall. Hopefully VSteam will have photos up on their website fairly soon.
Websites:
http://vancouversteampunks.com/
Facebook Group: VSteam: The Steampunks of Vancouver
2 comments