Topic "Barclay Manor"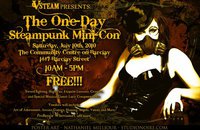 Last Saturday VSteam, Vancouver's Steampunk group, held a one day Steampunk Mini-Convention. What's steampunk? Wikipedia has as good a description as any: Wikpedia on Steampunk.
Organizing an event is a lot of work and VSteam gets high marks for the location and over-all organization. Picking Barclay Manor in Vancouver's West End was brilliant. While not Victorian the manor house and grounds gave the event a natural ambiance. The people in costume simply belonged there.
The most happening aspect of the mini-con while I attended was the vendor area. There was interesting stuff on display and since everyone was wandering through it was essentially a promenade for the costumes. There's a large grass area — not sure if you'd call it a small field or a large lawn — next to Barclay Manor. At various times there was a game of croquette, sabre fighting, fisticuffs, and, as I was leaving, a band was setting up.
Continue reading VSteam's One-Day Steampunk Mini-Con