Topic "Chicago"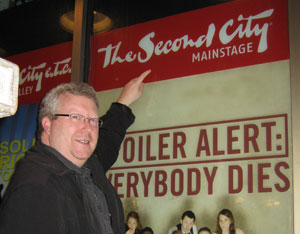 DrupalCon is in full swing so the time for sightseeing is gone. Although there's a convention related activity happening for almost every waking moment last night and tonight I blew off the organized conference activities to do some things I wanted to do in Chicago.
Being a pizza fan I just couldn't leave Chicago without trying deep dish pizza. My partners in gastronomy were Dee Ann, who's covering the conference CMS Wire, and a work colleague. We found one of the recommended places and gave it a try. I never thought I'd suffer from a cheese overdose, but I did on Tuesday. It was tasty, but not a style I see myself craving that often. I don't even want to know how many calories it was.
Tonight was a show at Chicago Second City. I am forever thankful for my colleague thinking of it. It was awesome A-Game comedy. We were right in front of the stage and somewhat in harms way, as it turned out. I became part of the show for a brief moment when one of the actors kissed me on the head as he exited the stage. Now there's a unique Chicago memory!
Tomorrow is my last day in Chicago, and sadly it will be all conference and no play time. I haven't been to that many American cities, but Chicago has become my favourite. I could even see myself living here. I really hope I get a chance to come back one summer.
Yesterday I arrived in Chicago and met up with a friend who came down from Wisconsin. Ultimately I'm headed to DrupalCon but I came down a day early to visit and see a bit of Chicago.

Today we headed out to explore and I got to see Chicago and the surrounding area in the light. It's so flat here! We didn't get a chance to do a lot of exploring but did drive around a little and make it over to the Field Museum.
Almost all of the shore front I saw is public space. I wish the weather was a bit nicer, it would have been fun to walk or rent a bike. There are a lot of wonderful old brick buildings. Not sure what they'd be like to live in but they look nice. While Chicago itself is nice the surround area is suburban drab.
Even though I've only scratched the surface, so far I'm liking Chicago.