Topic "Coraline"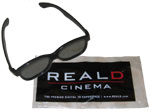 Have you seen any of the latest crop of 3D movies, yet? So far I've seen Coraline and Up (Dale's Up review) and my opinion is: 3D is one "D" too many.
I don't have great stereo vision. Wish I did, I don't. The IMAX 3D movies I've watched have worked ok for me, particularly if something is "drastically" 3D. One of the really early IMAX 3D movies has a scene where a robotic arm reaches into the crowd and breaks an egg. If you're sitting in the middle of the theatre it looks like the goop is falling into your lap. I moved just a bit! For images that have little "depth" the 3D effect is lost on me.
Continue reading RealD 3D - Not So Much
Four upcoming films I want to comment on. In no particular order:
Coraline

Cinema Fusion posted a trailer for Coraline (IMDB page), a movie based on Neil Gaiman's book of the same name.
Gaiman has a knack for creating atmosphere, and Coraline the book has a wonderful creepy in-a-good-way vibe and a charming story. If the trailer is anything to go on the movie might, as well. The movie is directed by Henry Selick, who also directed The Nightmare Before Christmas. Voice talent includes Ian McShane, Jennifer Saunders, and Dawn French. Saunders and French as Miss Forcible and Miss Spink, brilliant!
Gaiman has been keeping tabs on the process and writing about it. He likes it, this is a good thing! I'm very much looking forward to the final result.
Coraline isn't set for release until February 2009.
The Last Starfighter Sequel: Starfighter

Via the Movie Blog, Cinema Blend reports in two web articles: Son Of The Last Starfighter! and More On The Last Starfighter Sequel that a Last Starfighter (IMDB page/Wikipedia page) sequel is in the works.
I loved this movie when it was released back in 1984! Though it isn't high art and is a product of the 80's, it has a certain wide eyed, optimistic charm I enjoy. The video gamer saving the galaxy storyline is cool, too! I'm not sure I'd call it a classic but there's a lot of people who do. I am sure it's nice to watch every now and then.
It's so early in the development process who's to say how the sequel will turn out. Initial involvement of a lot of the original players is a good sign. Let's hope they don't mess it up!
If you're interested, check out the Cinema Blend articles.
Continue reading Some Random Comments About Upcoming Films