Topic "Free Geek"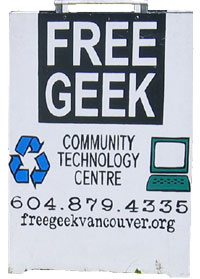 Do you have an old computer or monitor you want to get rid of, but not in a dumpster? Putting it in your back alley and hoping someone picks it up is an option, but chances it will get stripped for metal and dumped. If you're in Vancouver there's a better answer: Free Geek!
Free Geek is a registered non-profit society that takes computer recycling the extra distance. They strip old computers and try to reuse everything they can out of it. Stuff that can't be reused is sold for scrap or disposed of in an ethical way. Parts that are still good are either used to build "new" computers or sold in their thrift store. If you're looking for a computer part, especially an older part, their store is a great place to check. The computers they build are sold in the thrift store, given to non-profit organizations through a hardware grant program, and used as a volunteer incentive (after a set number of volunteer hours you earn a "Geekbox").
So how awesome is that, by getting rid of your computer in a green way you're also assisting people and groups that might otherwise not be able to afford a system. And Free Geek doesn't receive a penny in government grant money. Brilliant.
If you're interested in checking out the Free Geek Thrift Store head in the front door and up the stairs. I was there looking for a long USB cable for my printer and scored a 2.5 meter cable for $5. Jax, the store guy, was excellent (in spite of me probably annoying the hell out of him taking pictures). I watched him quickly help the woman in front of me get a custom Kodak camera cable and over the phone point someone to a store that might have what Free Geek didn't.
Free Geek is located in an industrial area of northeast Vancouver not too far away from Commercial Drive. The street address takes you to the Thrift Store entrance. If you're dropping off you'll want to head for the alley.
You can find directions and details at the Free Geek website: freegeekvancouver.org. Here's some pictures I took when I dropped by:
Continue reading Free Geek Thrift Store and Computer Recycling