Topic "Lions Gate Bridge"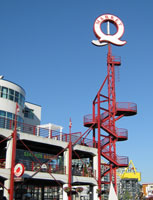 If you've Seabussed to North Vancouver or walked around Lonsdale Quay you've seen the red tower with the rotating Q on top. Did you know the tower platform is open the public? If you answered no, don't worry, you're not alone. Tower access isn't well advertised and most people, including North Vancouver locals, are unaware that the best public view on lower Lonsdale is only a 30 second stair climb from the Lonsdale Quay Market.
Wondering where the tower entrance is? Hiding in plain site!
Continue reading The Secret Outlook At Lonsdale Quay