Topic "movie"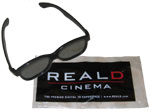 Have you seen any of the latest crop of 3D movies, yet? So far I've seen Coraline and Up (Dale's Up review) and my opinion is: 3D is one "D" too many.
I don't have great stereo vision. Wish I did, I don't. The IMAX 3D movies I've watched have worked ok for me, particularly if something is "drastically" 3D. One of the really early IMAX 3D movies has a scene where a robotic arm reaches into the crowd and breaks an egg. If you're sitting in the middle of the theatre it looks like the goop is falling into your lap. I moved just a bit! For images that have little "depth" the 3D effect is lost on me.
Continue reading RealD 3D - Not So Much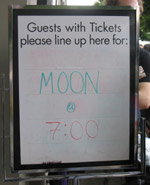 Last Wednesday I scored a ticket to an advanced screening of the movie Moon. Many of the greater Vancouver science fiction groups were given passes, so it turned into a wonderful gathering of friends. The evening had a great expectant energy. Well done science fiction movies don't come along often and everyone had high hopes.
Adding to the evening's festivities was Marina's guest, "Pocket Edward." I'm not even going to try to explain it, so check out Marina's post: Pocket Edward at the Movies. You'll also find pictures of the evening.
Moon is a science fiction psycho-thriller. The story contains some cool mysteries and I won't be the one to spoil them for you. Although the story didn't ramp up the tension during the story, making for a bit of a flat ending, I really enjoyed figuring out the mysteries and the over-all story. It isn't a block-buster but it's a fun watch. If you're curious, check out my (no spoilers) review: Moon (the movie) Review.
Continue reading Moon Preview