Topic "movie theatre"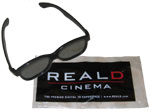 Have you seen any of the latest crop of 3D movies, yet? So far I've seen Coraline and Up (Dale's Up review) and my opinion is: 3D is one "D" too many.
I don't have great stereo vision. Wish I did, I don't. The IMAX 3D movies I've watched have worked ok for me, particularly if something is "drastically" 3D. One of the really early IMAX 3D movies has a scene where a robotic arm reaches into the crowd and breaks an egg. If you're sitting in the middle of the theatre it looks like the goop is falling into your lap. I moved just a bit! For images that have little "depth" the 3D effect is lost on me.
Continue reading RealD 3D - Not So Much
SlashFilm recently ran a piece on the Alamo Draft House Theatre titled, The Alamo Drafthouse - The Best Movie Theater EVER. A pretty bold claim, but this theatre does look pretty amazing! They serve real food in the theatre and have some cool theme events.
There's some movies I'd definitely prefer to see without the food distraction (In fact, I'd love to find a movie theatre that got medieval on idiots talking during the film). However, there's a large class of totally fun movies where this venue would rock! If only Vancouver was as enlightened as Austin.
Photo by fuzuoko