Topic "ROKS Yang Man Choon"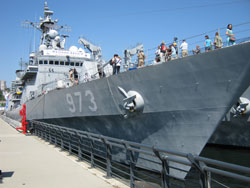 It feels like lightning has struck twice in the same place. By same place I mean the Burrard Drydock Pier in North Vancouver, and by lightning I mean a visit by a foreign Navy from a different continent. Last weekend the Republic of Korea ships (ROKS) Yang Man Choon and Hwa Cheon visited North Vancouver and were open to public for four days. They're on a combined good will and training tour, visiting all the nations that fought on their side in the Korean war.
The ROKS Yang Man Choon, DDH 973, is a Korean built DDH-I (Gwanggaetodaewang) class destroyer. The ROKS Hwa Cheon, AOE 59, is a combat support and supply ship. The two ships were rafted together side-by-side, making it easy to miss the Hwa Cheon. The configuration made it easy to traverse from one ship to the other and the tour they laid out took advantage of this.
Continue reading A Tour of the ROKS Yang Man Choon and Hwa Cheon