Topic "Spacepug"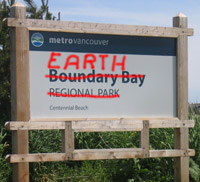 One of the kicks being a Battlestar Galactica fan in Vancouver is recognizing the local locations. Among the different events organized by the local BSG fan group, The 13th Colony, are location scouting road trips. It's the BSG fan version of geocashing, and a nice way to get outside. Yesterday we did a road trip to Earth, otherwise known as Boundary Bay Regional Park [ Google Map ], and checked out spots where some key scenes took place. As always, our magnificent President Val had everything organized, including screen-shots so we could match the landscape.
We were scouting three primary shots. Val already had two of the three nailed. The third? The episodes were shot two years ago in the fall or winter. Everything has grown and, being late spring, is green and leafy! I'm positive we're close but couldn't say for sure.
So here's the recon report.
Continue reading BSG Location Scouting: Boundary Bay - Our Poor Dead Earth
Val (aka Space Pug, aka Madam President), organizer of The 13th Colony (Vancouver's Battlestar Galactica Fan Club) semi-regularly shows up with the coolest things. At the BSG event today — a location scouting road trip to Boundary Bay, pictures coming soon — she came packing a wad of Caprican cubits! Although I'm not sure I can name the source (don't want any Taurans coming after me) I can say the drinks are on Val if we ever get to Caprica!
Continue reading A Fistful of Cubits