Topic "winter driving"
If you're travelling in BC, especially when there's a risk of snow, there are a couple of websites you'll be glad to know about!
The BC Ministry of Transportation runs the website: drivebc.ca.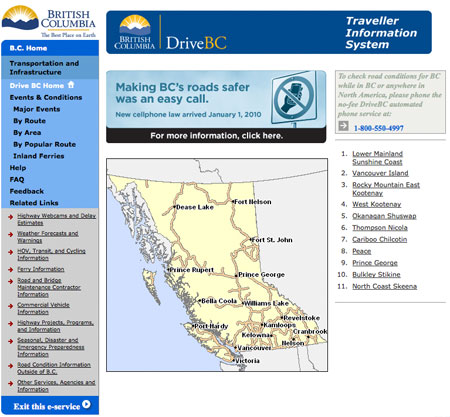 It isn't immediately apparent from the home page, but there's a lot of good information contained within. Click on Related Links and you'll see It contains, among many things, webcam pictures from highway traffic cameras, info on construction delays, and estimated border wait times. And everything has a unique URL so you can bookmark pages of interest.
Continue reading Handy BC Travel Websites
One thing about spring travel north of Vancouver, you still need to plan for snow!
When I drove to and from Vernon I encountered snow flurries on the Coquihalla (Highway 5) and Kelowna connector (Highway 97C). On the trip up it wasn't sticking. On the trip back it was.
All told my trip back was still pretty tame. Nothing close to some of the knuckle biters I've had at Christmas and blessedly no black ice. The road was sloppy and wet, but I had positive traction the whole way. Even so, I passed a jack-knifed tractor/trailer rig and an abandoned car pointing the wrong way. Either it was slipperier early in the day, someone was driving too fast, or they weren't using winter tires. It just didn't seem that bad to me. I didn't even have to refill my windshield wiper fluid!
No pictures of the accidents, too busy driving, but I did snap this picture about 10km south of the Coquilhalla toll booths: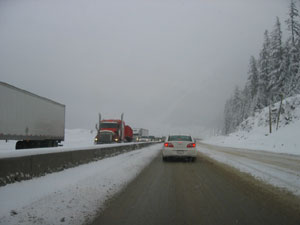 Click on the picture for full size.