Future Shop's New Future
Future Shop has a reputation among my circle of friends as an indifferent big box retailer with sometimes poor after sales support. When I heard about a new "concept" store attempting to be customer centric my curiosity was piqued. Hoping that old proverb about curiosity and dead cats was on summer vacation I accepted an invitation to last night's unveiling party of the newly redesigned Future Shop at Park Royal.
The new store concept is a "Hub" where customers can see products in a bit of context and talk to product experts who aren't on commission. The hub, appropriately located in the center of the store, has four sections corresponding to different facets of lifestyle: Living, Playing, Working, and "On the Go". Each section has product displayed "Ikea" style (i.e., setup the way you might find in a home much tidier than mine). The store also contains an Apple store, staffed by Apple staff.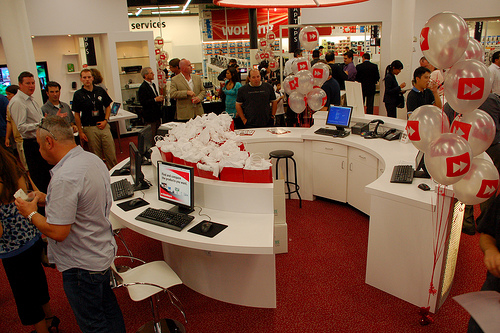 The new Future Shop "Hub" concept at Park Royal
Photo by penmachine
This was the first opening of any type I got to attend as "media", and I got the full attention of one of the Future Shop employees who'll be staffing the hub.
On seeing this design at other stores:
This is a concept store based on customer feedback surveys. Future shop will be watching what works and what doesn't, and move the working ideas out to their other stores. The Hub and Apple store weren't the only things implemented. Not mentioned in the promotional material I saw but pointed out by the employee, in response to customer feedback their returns/exchange area now has seating (Photo right).
Will this store, being a sort of West Van flagship and all, carry higher end products not carried at other stores?
My interview subject didn't have any specific information on this, so probably not.
Does this store reflect an attempt to differentiate the Future Shop and Best Buy brands?
Again, my interview subject didn't have any specific information on this. His Future Shop loyalty/pride as a floor sales guy certainly came out, though! He felt since Future Shop sales people were on commission they gave better service than Best Buy staff, who weren't.
My take away from all this?
The most impressive thing I heard all night was the seating in the returns/exchange area. This isn't sexy, so the fact they spent money on it shows some earnest attempt to the improve store experience (And hopefully they're also working on keeping the wait times and number of returns low!). It was also nice to see floor staff engaged in the change This is based on a sample of one, but it would have been ill omen indeed if they'd only had bored folks available.
So, is this a flash-in-the-pan facelift or genuine attempt to become a nicer place to shop? I can't tell from just an opening. I'm hoping for the later (it would sure be nice to have a tech geek go-to store) but I'm not holding my breath! However, living on Vancouver's North Shore I'll have a chance to find out over the next few months. And hopefully not by using one of those new chairs in returns/exchange.
2 comments