Revenge of the Snow
Back on December 12th I posted: First Winter Snow 2008 - M'eh. It was looking like a standard Vancouver winter until a couple of days later. Thanks to the cold air flowing down from the artic it started snowing and hasn't melted away. Here's a picture I took a day or two after the second snowfall.
And the snow has kept on coming. Sadly, I neglected to take a picture of the most recent accumulation. This picture by Roland Tanglao will give you some idea.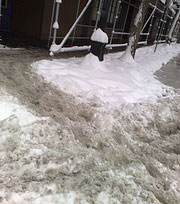 I don't mind the snow after it's been cleared off the roads and sidewalks. I thoroughly hate it while it's coming down and waiting to be cleared. With more of the latter than the former, all I can say is: Go Pineapple Express!