BSG Location Scouting: Boundary Bay - Our Poor Dead Earth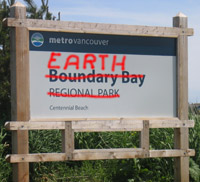 One of the kicks being a Battlestar Galactica fan in Vancouver is recognizing the local locations. Among the different events organized by the local BSG fan group, The 13th Colony, are location scouting road trips. It's the BSG fan version of geocashing, and a nice way to get outside. Yesterday we did a road trip to Earth, otherwise known as Boundary Bay Regional Park [ Google Map ], and checked out spots where some key scenes took place. As always, our magnificent President Val had everything organized, including screen-shots so we could match the landscape.
We were scouting three primary shots. Val already had two of the three nailed. The third? The episodes were shot two years ago in the fall or winter. Everything has grown and, being late spring, is green and leafy! I'm positive we're close but couldn't say for sure.
So here's the recon report.
Starbuck Discovers She's Dead
Located at the far end of parking lot, I mean, you can see the tree when you get out of your car, is the back drop tree where Starbuck discovers her dead self. To get to the place where the scene was shot you have to take a short trail that parallels the parking lot. It might not look like it with all the green, but this is definitely the place where the scene was shot. Val has a more convincing picture in this post at The 13th Colony blog: We found Earth!.
Dead Earth Vista
As you walk onto the beach by the concession building you only have to go around 20 feet/7 meters to see the dead Earth beach vista. There's a marker buoy (marking the Canada/US border) appearing in the shot that you can use as a reference. Umbrellas obscure some telling detail, and the screen shot page is a little washed out, but this is the place.
Starbuck & Leobin Talk
This last spot is still somewhat in question. This is where Starbuck and Leobin are walking and talking. With tree growth and general greenery it's difficult to say if we found the spot. If we didn't, I think we're pretty close.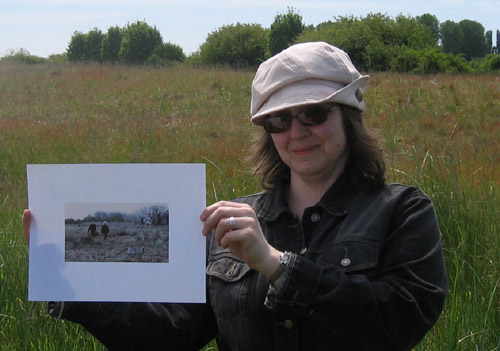 Props to Val
Val's portfolio of maps, screen shots, and other useful information is just one example of the energy she puts into our events. A great, big, thank you from me for all your incredible work. Val!
Closing Thoughts
Some random thoughts and info to close things out:
We got there around 10am, and I think that's a good time. There weren't a lot of people around so it was easy getting pictures. If you want pictures, I'd do the beach first. As you can tell from my picture, we didn't beat the crowd on that shot.
For the proper BSG experience, this isn't a spring/summer destination. I want to go back in the fall or winter when the leaves are gone and grass is yellow!
Being next to the ocean and relatively open there was a constant wind. This was wonderful for me, it kept things cool. You'll definitely want to dress in layers on a not-so-warm day.
Sunscreen
I wouldn't call Boundary Bay park pretty, but it looked interesting. I'd like to go back and check out some of the trails. Lots of bird calls but we didn't see a lot of birds. We weren't really looking, though. We did a a pair of heron, those puppies are big.
Boundary Bay is a long way from Vancouver, though there is bus service. [ Google Map ]
Dogs are allowed on-leash except for the beach
Bicycles were not allowed on the trails we were using
There's a picnic area with tables and bar-b-ques are allowed
The food at the concession stand is exactly what you'd expect
2 comments