Moja Coffee
Even with Vancouver's thriving coffee culture it isn't always easy finding great coffee. A place serving coffee is never too far away, but quality isn't a given. This problem seems doubly bad with coffee beans. In my experience, buying beans from a coffee shop where I've enjoyed the coffee is no guarantee that the same coffee will taste as good at home. And if you live in North Vancouver, the places recommended by the coffee gurus mean some form of commute ... until now.
Enter Moja Coffee — We of the North Shore no longer have to cross Burrard Inlet for great coffee or great coffee beans!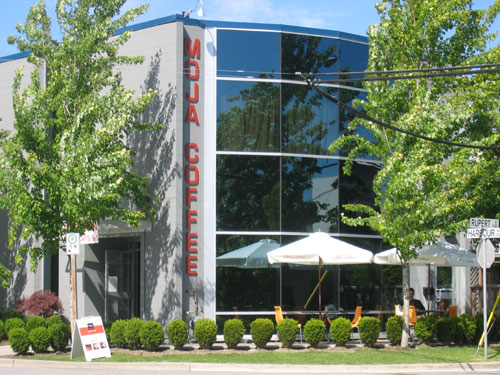 I was introduced to Moja coffee by Arieanna & Ianiv (www.blogaholics.ca). Their recommendation was bang on! Everything I've had there, both on site and taken home, has been great. I'm currently enjoying my second 1/2 pound of their Bolivian beans. They roast their beans on site. When you order you can look through a window and see the back where all the coffee roasting goodness goes down. And the staff match the product, not only is their service top notch, the ones I've spoken with know their coffee.
While Moja coffee is first class, I have a few quibbles. I can't quite call them complaints, more like if I had my druthers this is what I'd change. Their hours are 9 to 5, 7:30am to 5pm Monday to Friday. 9-5 on Saturday, which can be challenging unless you're in the area during the day and precludes evening coffee enjoyment. This is somewhat offset by their recent expansion to Saturday openings (except for holidays). Although they have a patio they don't have wireless Internet. Parking can be a little challenging, though there's always the strip mall with Canadian Tire (technically not kosher, but you likely won't get towed).
Moja is having an open house all day on Saturday May 30th. If you like good coffee they're worth checking out anytime, but tomorrow you might win a prize!
You can find them at 1412 Rupert Street in North Vancouver [ Google Map ] (I didn't know North Vancouver had a Rupert Street, either).
UPDATE/NOTE: I had the weekday hours wrong. Hours as of this post are 7:30am to 5pm Monday to Friday. 9-5 on Saturday. Apologies.
5 comments