Moon Preview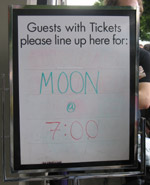 Last Wednesday I scored a ticket to an advanced screening of the movie Moon. Many of the greater Vancouver science fiction groups were given passes, so it turned into a wonderful gathering of friends. The evening had a great expectant energy. Well done science fiction movies don't come along often and everyone had high hopes.
Adding to the evening's festivities was Marina's guest, "Pocket Edward." I'm not even going to try to explain it, so check out Marina's post: Pocket Edward at the Movies. You'll also find pictures of the evening.
Moon is a science fiction psycho-thriller. The story contains some cool mysteries and I won't be the one to spoil them for you. Although the story didn't ramp up the tension during the story, making for a bit of a flat ending, I really enjoyed figuring out the mysteries and the over-all story. It isn't a block-buster but it's a fun watch. If you're curious, check out my (no spoilers) review: Moon (the movie) Review.
Moon was supposed to open last Friday, but got pushed back to next week (July 3rd). If you like science fiction or movies that keep you thinking you'll enjoy Moon. If my opinion of the movie seems a bit reserved, know that I was "the Russian judge" that night (They're still the ones who consistently score lower than the other judges, right?). Everyone else gave the movie higher marks than I did, and over-all I liked it.
Thanks Mongrel Media and thanks Movie Meetup for the passes. A movie and an evening well enjoyed!