Emerald City Comicon 2010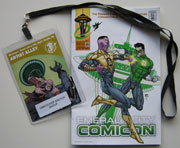 When you say the words: Comic books, science fiction, and road trip in a sentence you have my attention!
The 8th annual Emerald City Comicon (ECCC) was last week. I joined a couple friends for a weekend in Seattle to get my geek on at my first ever comicon. My interest in comics isn't big enough by itself to draw me south of the border. However, ECCC has a SciFi/Fantasy pop culture element which included talks by Leonard Nimoy and Wil Wheaton, both people I'd like to hear, and some interesting panels. I was in. Would I regret it?
The con started at a really civilized time. The dealer room opened at 10am and the presentations/panels, didn't start until noon. This was especially nice on Sunday when we had the daylight savings time lost hour to deal with. I was really fortunate to have my friend Margot showing me the ropes on the first day. On my own, I would have lined up too late for the room with Wil Wheaton and Leonard Nimoy. Thanks to Margot we had great seats and a crossword puzzle to pass the time in line.

Wil Wheaton is infamous for his Wesley Crusher role in Star Trek, a character myself and many others mostly hate. Fortunately the actor isn't the role. Wheaton, a comic book and gamer geek of the first order, read some stories from his books and answered questions from the crowd. I feared this could get boring really quick but Wheaton is a gifted storyteller and quite entertaining. His stories were a wonderful trifecta of geek subject matter, emotional truth, and story-craft. Wheaton also thinks fast on his feet, this and his wicked sense of humour made the Q&A a lot of fun. Added bonus for us Canadians, he lost a bet with Aaron Douglas over the Canada/US Olympic hockey game and had to wear a Team Canada Jersey. In addition to author, actor, and entertainer, add good sport to Wheaton's resume.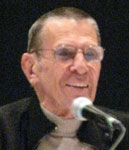 Does Leonard Nimoy need an introduction? I mean, isn't he so a part of pop-culture even people who aren't Star Trek fans know he plays Spock? Nimoy opened and closed his segment with readings from his books and took questions from the audience the rest of the time. Nimoy thinks fast on his feet and was quite engaging. He radiated a quiet dignity and displayed a genuine warmth towards the crowd. With such a Q&A heavy format the session could have gone bad quickly, fortunately it didn't. There were great questions eliciting equally great answers. I enjoyed getting a glimpse of the man behind the iconic character.
At this point I'd seen the two sessions I was looking forward to the most. I was a bit worried the best part of the conference was over and it was downhill from here. The remaining panel sessions sounded interesting but panels at any conference or convention are hit and miss. Would the next day and a half be as much fun?
Writing for Video Games was a panel discussion with writers William Harms (inFamous) and Joshua Ortega (Gears of War 2). Coming from a classic writing background, it was fascinating hearing the similarities and differences of writing for the gaming world. It's sounds like a hybrid of technical writing and script writing. Writers must work closely with programmers and developers, but the medium resembles cinema. As with all fiction writing, the writing must evoke emotion and serve the story. As you would expect, the game technology places some unique constraints on the writing.
Sunday Conversation with Ian Sattler was a low key panel with some DC Comics people. For any comic fans reading this, check out this article: ECCC 2010: Sunday Conversation with Ian Sattler for the details of the panel (the "lively last-minute discussion" mentioned in the second to last paragraph was the result of my question!). Having never read most of the comic books mentioned, the specifics were lost on me. The writing and industry information was interesting and I enjoyed the panel much more than I thought I would.
How to Make Webcomics consisted of web cartoonists Scott Kurtz, PvP; Brad Guigar, Evil Inc.; Dave Kellett, Sheldon; and Kris Straub, Starslip Crisis. Together they have some sort of joint venture called Halfpixel. They were the funniest panel of the conference; I think their motto is never speak a sentence when a quip or joke will do. But make no mistake, these guys know their stuff. After a rambling but thoroughly enjoyable introduction they answered questions from the crowd. Once again, there were many parallels to fiction story writing. The added bonus from this panel, besides the humour, was the linkage to making an income. The advice was framed in real-world practicality often missing in these kinds of presentations.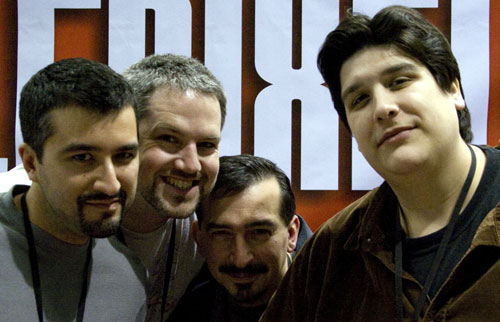 The Halfpixel Crew
Photo by Peter Norton (@taniz)
Star Trek: Between the Cracks was a wonderful and eclectic tour of all things Star Trek from Larry Nemecek. He worked on some of the early Star Trek TNG episodes and maintains relationships with many of the Star Trek production people. He had unique photos from different Star Trek productions and some interesting stories. It was an entertaining hour of Star Trek trivia.
The rest of my time was spent cruising the dealer room, and there was a lot happening in this room! [Pictures later on] I'm glad I was able to split it up over the two days. Given Emerald City is first and foremost a comic book convention, it should be no surprise the majority of the dealer room was devoted to comics, both in a comic shop style of sales booth way and individual artists promoting their products way. There were also dealers and craft people selling a variety of related science fiction, fantasy and comic merchandise. It was an incredible selection. Tucked in the back was a roleplaying game area. Then there were the photo-op/promotion type booths, like the 501st Legion and Night Zero folks. And last but not least, the celeb autograph area.
One aspect of the convention I wasn't a part of was the artist professional development. I was only aware of it because the convention was a working trip for my friend Seth: eldritch48.blogspot.com, who organized a table for the Vancouver Sketch Group. The artists, like bees in a garden, buzzed from table to table cross-pollinating ideas. There were also sketchbook review sessions available. I was envious of the camaraderie.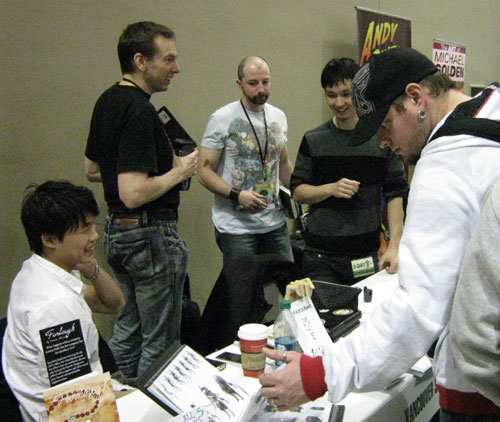 The Vancouver Sketch Group
Kudos to the organizers. The crowd control was really good. The large ballroom apparently held 1600 people and hit capacity. They had a staging area and avoided the kind of "cluster-mess" that often happens with large lineups. The morning lineup for the dealer room was also well handled. All the people manning the doors were nice and everyone I asked a question of was happy to help. If only they could have included free wireless access!
Was Emerald City Comicon worth the money and time? Yes, yes it was. Not only did fan-Dale have a lot of fun, writer-Dale learned some new things. There were a few things I'm sad I missed, like the Guild people, but that's the nature of the beast. You can't see everything. If the organizers keep up the quality, I'll definitely go again.
Some more pictures:
Comic book and merchandise sales in the dealer room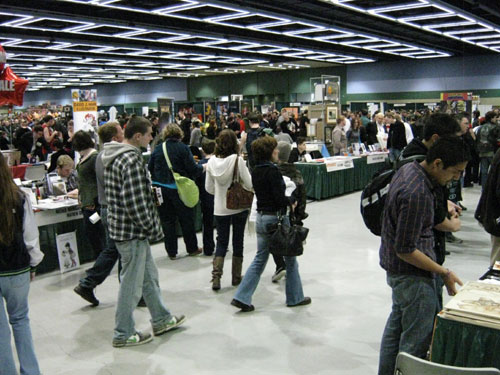 A small part of Artist Alley in the dealer room
A young girl gets her picture taken at the 501st Legion booth. She wanted Storm Troopers, not Boba Fett. Guess she doesn't like bounty hunter scum!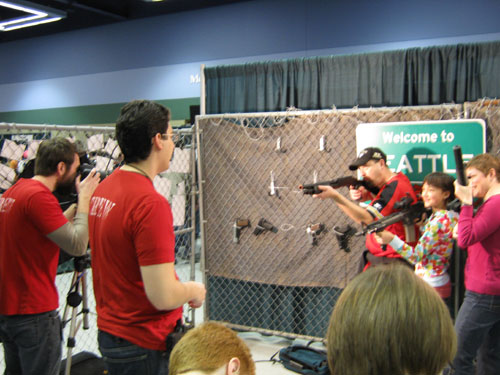 The Night Zero booth, where you could get your picture taken in a story scenario ... with guns
Lots of artists wishing they could take home Wacom's graphic tablets
(Wacom is the name of the company, not the woman in the picture staffing the booth)
Here's some other links you might find interesting:
Pictures:
Flickr Photo Collection by heath_bar (The whole 9 yards)
Saturday Flickr Photo Set by krulich / Sunday Flickr Photo Set by krulich (The whole 9 yards)
Flickr Photo Set by Studio JFISH (Merchandise)
Flickr Photo Set by Buddhist Colony (Costumes, including zombies)
YouTube Search on "Emerald City Comicon 2010"
The con from some other perspectives:
Emerald City Comicon Twitter Hash Tag: #eccc10
Ian & Venus Take Emerald City Day One
Ian & Venus Take Emerald City Day Two
queenanthai's ECCC 2010 In Pictures
Artistic Doom: Seattle Comic Convention Recap – 2010
Wil Wheaton: the obligatory emerald city comicon post
4 comments