Pink Elephants and Cocks: Seattle Neon
If I said I'd encountered pink elephants and cocks in neon last weekend, what would you think? You'd be wrong!
The Seattle Space Needle is one of the most iconic features in downtown Seattle, but in my personal canon the neon pink elephant of the Elephant Car Wash, ugly though it may be, is just as significant. It's just so damn memorable! At the corner of Denny Way and Highway 99 I invariably pass it at least once if I'm venturing into downtown Seattle. And it seems like every time I pass it I'm on my way to making happy memories or reminded of past ones. My hotel for the 2010 Emerald City Comicon was four blocks away, and the happy elephant greeted me in the morning on my way to the con, and welcomed me back again in the evening.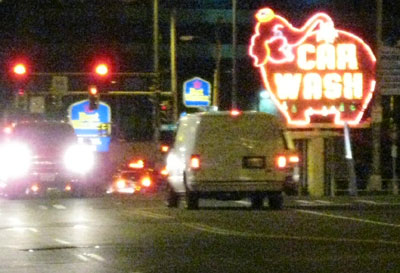 Speaking of neon signs that I passed a couple of blocks from my hotel, there was the bright lights of The 5 Point Cafe where you can find a "COCK ON DUTY" (check the picture just below the word "Cafe")! My travel companions figure someone adulterated the work "cook". So to speak. We did not enter to confirm whether the entity on duty was fowl or penile. We mostly just chuckled. Someone may have made a spotted dick joke.
It pleases me there's places in the world with silly yet memorable details. Doubly so in neon.