Emily Carr 2010 Foundation Exhibition
We live in a world surrounded by talent we seldom get a chance to appreciate. On Friday a chance presented itself, though I didn't know it at the time. The first year ("Foundation Year") students at Emily Carr celebrate completion of their first year with an exhibition of projects they've created in their classes. My friend Seth is one of those students. Though I went to celebrate his completion of first year and check out the work he has in the show, I found much more to enjoy.
The event is called the Emily Carr University of Art + Design's 2010 Foundation Exhibition, and this was opening night. The exhibition is open all week and is being held in the concourse gallery space and class rooms at the Granville Island campus. The entrance had this sign of the entire first year cohort, tempting many people, myself included, to play a game of "where's Waldo" looking for people I knew. The group photo gave away no clues of the sights within.
As you can see from this shot of the gallery space, it was a full house.

Gallery from above
Since the exhibitions consisted of class projects the students had done during year, I wasn't expecting a lot. Their goal was learning by creation and exploration, not making something to impress the public. Never-the-less, I saw a lot of stuff that entertained me or tickled my fancy. Here's some of it. I regret I wasn't more diligent about capturing artist names. Where I could read them from the photos, I've given credit.
The first things catching my attention after entering the gallery were this violin and pencil. Or is that a viola?
One should always remember to look at the ceiling of any room one enters. I certainly try. Check out what's watching people go in and out of the door at the top of the stairs. Though it was pointed out to me I'd like to think I would have spotted it on my own eventually.

Ware the door and what lurks above!
I got a kick out of the 3D antlers on this moose portrait.

Kindness
by Juyeon Rhee
The visual contrasts of this comic strip drawn on wood appealed to me.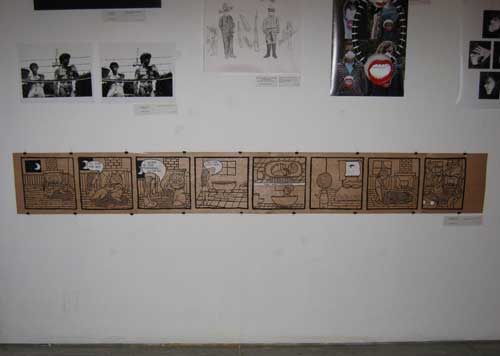 Comic Strip on Wood
Speaking of comic strips, this piece stood out from the others because of its sophistication and technique.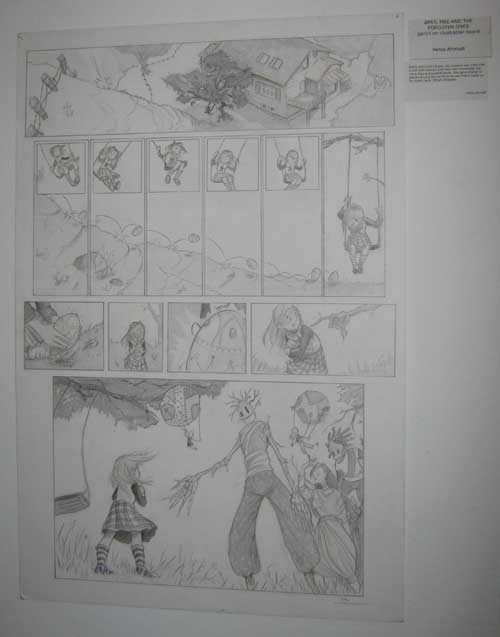 April Mae and the Forgotten Ones
by Heisa Ahmadi
A piece by my friend Seth, rock on Dante!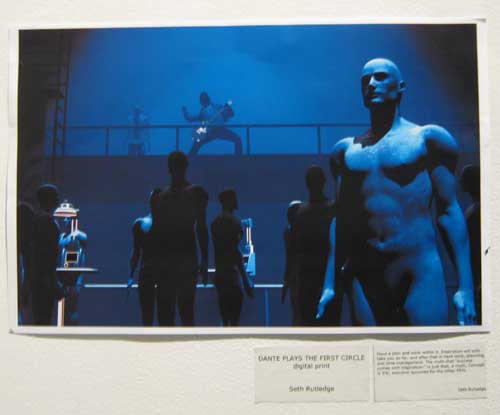 Dante Plays the First Circle
by Seth Rutledge
A whimsical bicycle. I wish they'd provided more context to why these pieces were created. I was intrigued.

Bicycle
Moving out of the main gallery there are "theme" rooms. I should have shot signage because I can't remember the individual room topics. One room contained photographs. Sadly, nothing spoke to me in this room.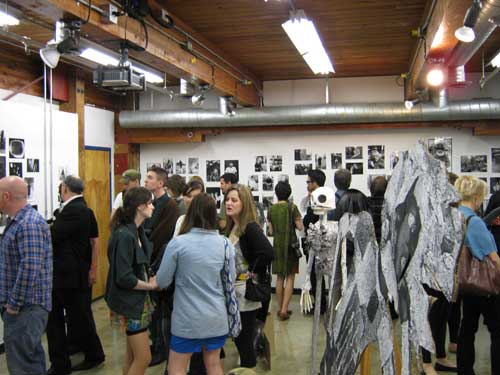 Photography Exhibition
One of the projects the students did was create a picture the same way a computer does, by drawing pixels. Up close the pictures looked like squares with different grey tones. Look at it from a distance and you could see the picture. I've tried to capture the effect.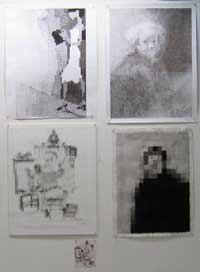 Playing with grey tones
If I'm remembering correctly, the subject of the works in the next room were personal space and environment. One project was creating a model of an artist's space made from a shipping container. I really liked the detail of the cardboard models. Another project had something to do with public space. One student created a water park where you had to rock climb 300 feet to get to a water slide, which brought you back down. Put a pub at the top for a beer between the trip up and the trip down and you could market that in the real world!

Shipping Container Artist Space

Rock Climb/Water Slide and Terrain Park
I have no idea what the project was, but "garbage baby" was simultaneously creepy and awesome. The baby turned it's head and moved at intervals, adding to the creepy awesome.

Garbage Baby
There was a multimedia component to the program and one of the rooms was a screening room. It was so packed there wasn't even standing room. I did manage to catch one project sets and I was impressed. A goodly third of the clips were quite enjoyable. Emily Carr should put the "demo reels" online. In the meantime, here's Seth's video.
Last I leave you with my favourite piece. For reasons I can't explain the use of colour and playfulness of this picture really appeal to me. I'd hang this in my living room. I'm not sure if this is a copy of a master, I understand that's sometimes an exercise and noticed a "Starry Night" in the gallery, or an original work.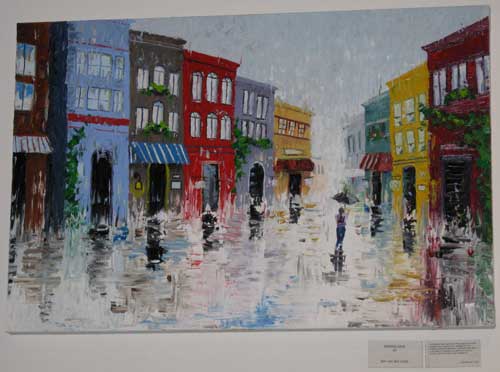 Spring Rain
by Jori van der Linde
If you're interested and happen to be on Granville Island this week, the exhibition is at the Emily Carr campus and open to the public from April 17 to 24 [ Emily Carr 2010 Foundation Exhibition details ].
Congratulations to Seth and all the Emily Carr first year students. The celebration of your work is deserved. Much to my surprise, you entertained me for an evening with projects that weren't intended to do so. I'm looking forward to seeing the results when you're actually trying!
2 comments