A Tour of the RNZNS Te Kaha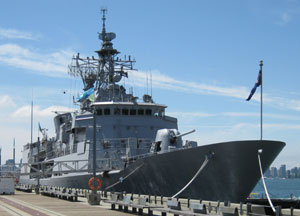 This week North Vancouver was face-to-face with Te Taua Moana o Aotearoa. Well, one of her frigates and a supply ship. The Royal New Zealand Navy (RNZN) ships Te Kaha and Endeavour stopped over in North Vancouver after participating in the Royal Canadian Navy International Fleet Review held in Victoria, it was part of the Canadian Navy's centennial celebration. By the time I heard about the North Vancouver visit Endeavour had left, but I hadn't missed the one day Te Kaha would be open to the public. I managed to carve out some time to drop by and quickly take it in.
The name Te Kaha is Maori and means "fighting prowess" or "strength". Maori is one of New Zealand's official languages and the Royal New Zealand Defence Force, of which the RNZN is part, draws on their Maori as well as their English heritage. Thus the Navy is also known as Te Taua Moana o Aotearoa, which is Maori for "New Zealand Warriors of the Sea". Te Kaha is a fighting ship, one of two ANZAC class frigates that make up the RNZN combat force.
The first thing that surprised me was the crew seemed genuinely happy to show off their ship! They had glossy handouts, so it's clear they're no strangers to public relation duties. Still, if the shoe were on my foot I'm not sure I could be much more than perfunctory. Maybe I lucked out and only meet the happy ones. The second thing that surprised me was photographs were ok. I took quite a few.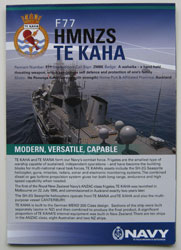 Tour Handouts
From the dock the ship looks like it has plenty of space, but on board you quickly find the space isn't used for people. This wasn't a surprise, I've seen footage of frigate interiors before. It's different when you experience it in person and actually walk the passage ways. Their Seasprite helicopter was on the flight deck for display, leaving the hanger open. There doesn't look to be a lot of room in the hanger for the helo, either. The mechanics must have an interesting life.
The crew compliment is 173 according to their handout. Keeping fit in the space available would be a challenge. At the top of the hanger they've carved out a space, or maybe it was designed, for exercise bikes. Though not a luxury I couldn't help but smile at how different the exercise gear looked in the otherwise military setting.
The only real open space on the entire ship was the flight deck. Though the vertical launch system deck had open space it was populated with radomes. Cellphone radiation is the least of this crew's concern. Most of this deck area was marked "for transit only" because of the electromagnetic hazard from the radomes. I wonder if the night crew are ever tempted to heat a sandwich by taping it to a radome? Probably contraindicated in the manuals.
I was intrigued by the signage, especially the signs unique to the military world.
Mounted on the deck were storage lockers for .50 caliber ammunition, but there were no guns in sight. When I asked one of the crew about it he said they were indeed stowed. There are a number of mounting points and two of them that can be remotely controlled by joysticks in their operation centre. Apparently the XBox aces really are better at firing these.
Te Kaha's bridges was exactly what I expected, but no less cool for it. When I asked a crewman if he would take a picture of me in the helm chair (what's the proper term for that?) he not only graciously obliged, he told me to crank 'er 30 degrees to port! According to the degree markings on the wheel, that's all the way. Weeee! I was surprised at how small the wheel actually is, it's smaller than a car steering wheel. I guess it's the size of the rudder that counts.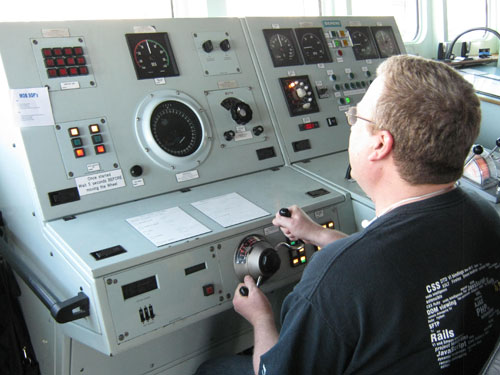 Would you let this man drive your ship?
The only place pictures weren't allowed was the Operation Centre. It consisted of something like 10 consoles. As you'd expect, the equipment was mostly turned off. The crew were happy to explain which console did what, in general terms at least. Wish I'd had more time to talk.
The Te Kaha is equipped with torpedos, missiles, and two large caliber guns. It was easy to miss the torpedo and missile tubes, but the 5 inch gun was obvious. Standard rounds for the gun are $2000 a pop and it can fire 20 rounds in about a minute. I got a kick out of the silver barrel cap with the embossed logo, it seemed a bit elaborate for the setting. According to the handout there's also a Phalanx 20mm gatling gun, but it wasn't mounted because it was being upgraded.
Touring the ship made me feel like a big kid. I'm sure I had a stupid grin on my face the whole time. In the back of my mind I couldn't forget it's all fun and games until the crew has to use the ship for its intended purpose. I appreciated the first hand look, and the context it afforded. Thank you New Zealand for sending your ships for a visit, and thank you Te Kaha for being gracious hosts. May you always arrive safely at your destination, even after danger.
Here are more pictures, click any image for a larger version:
RNZNS Te Kaha at Burrard Dry Dock Pier (Port Side)

RNZNS Te Kaha at Burrard Dry Dock Pier (Starboard Side)

Te Kaha's name plaque on starboard side

Looking down on Seasprite helicopter from vertical launch system deck

Flight deck looking forward. Note the indicators for helicopter.

Exercise equipment above the hanger

Top of hanger looking out at flight deck

Top of hanger looking down

Stairs or a ladder, you decide

Stairs and stairs going down, nothing but turtles?

Torpedo Tube Otto Fuel Hazard

Anti-harrassment sign (I've hidden the names)

Ship layout with obligatory: You are here. If you're actually looking at this sign you must be a civilian.

Kids had a challanging time with the stairs

A very serious storage locker

Door plaque reads: Warning Beryllium components in compartment. After serious fire take precautions.

Back of vertical launch system deck looking forward, it's a radome farm.

Sign on radome: RF Harzard, transit area only

Ships funnels and vertical launch system

Danger explosives = Interesting things stored here :-)

50 caliber ammunition locker

Outside of bridge on port side of ship

Old school instrument panel, blurry but I wanted to show it

Barrel cap on 5" gun with embossed ship's crest.
2 comments