Congratulations Eric And Kelsey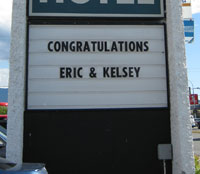 We mark the passage of time in many ways. There are the regular measures of time, the months and the years. Then there are the "milestone" events, the birthdays, the graduations, and the marriages, our own, our friends and our relatives. Today was a milestone for my nephew Eric, and as such a milestone for my entire family. Though it doesn't seem that long ago I was buying him toys for Christmas, today I'm giving him a gift on his wedding day.
The ceremony was held at a local park on Kalamalka Lake near Vernon. It was an outdoor ceremony, and everyone wondered about the weather. It had been a rainy week with a pessimistic forecast for the wedding day. Though cloudy in the morning by the time the ceremony started it was sunburn, not rain, everyone was worried about. As the crowd went silent and the ceremony started, music could be heard coming from the lake. Love songs. For those that mark such things, surely good omens. For me, this picture says it all: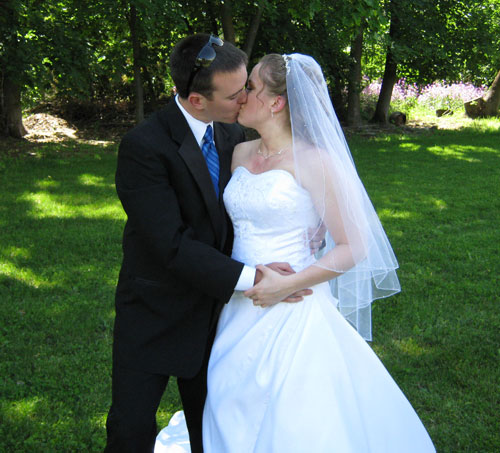 Congratulations Eric and Kelsey. Your uncle Dale wishes you a big-ass super-sized bag of bottomless awesome sauce for your new life together. It's especially good on milestones.
| | | | |
| --- | --- | --- | --- |
| | | We're too cool for our tux's | The bride's here, we can start |
| Groom and grooms men at attention | | Ring Bearer and Flower Girl | The bride with her father |
| | | | Eric and Kelsey, husband and wife |
4 comments