North Vancouver Walking Trails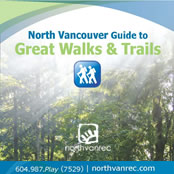 So a number of weeks ago my friend Spacepug and I had just completed a writing session. We regularly meet at a local cafe to spur our writing on. On our way out of the cafe we encountered an overly enthusiastic-friendly-attractive-summer-student-athletic type from the local Recreation Commision handing out pamphlets. I almost turned it down, instinctual reaction, but fortunately I took a closer look before walking away. It turned out to be a guide, and much to my surprise, it looked useful!
The North Vancouver Guide to Great Walks & Trails is a collection of 20 walks in the City and the District of North Vancouver. The walks are set in a mix of urban green space, municipal parks, and GVRD parks, and divided into easy, moderate, and advanced categories. I recognize many of the trails as well known North Shore favourites. Some of urban walks look iffy, but I'll reserve final judgment till I've tried them first hand. Overall it looks like a good selection.
Thus, a summer project is born. By the end of the summer I will walk all of the trails in the guide and blog about them. It's clear from the structure of the guide this was the Rec Commission's plan, and I've fallen for it. So has Spacepug. Sometimes government plans fronted by attractive people are worth falling for.