North Vancouver Canada Day Costume Party 2010 (aka Parade)
Last year I wrote about North Vancouver Canada Day Parade, this year I marched in it! A collection of Metro Vancouver science fiction/fantasy fans once again marched in the parade, and when Spacepug offered me the use of a BSG Viper mechanic costume I decided to join them. Unfortunately, my "freshly" charged camera batteries weren't, so I don't have pictures of my own this year.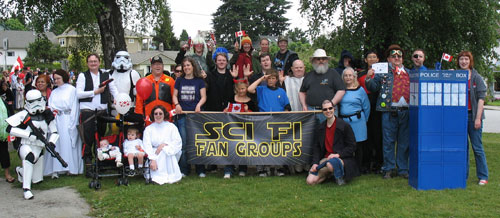 Science Fiction/Fantasy Fans Group Shot
North Vancouver Canada Day Parade 2010
The highlight of the parade was a trumpet player at the review stand spontaneously playing the theme from Star Wars as we approached the review stand. Both the crowd and marchers burst into applause and laughed. There were some great costumes again this year. The Storm Troopers were definitely the crowd favourite, though the Dr Who Tardis was stopped for photos a number of times, as well.
Here's some more photos of the group: