Chicago Day 2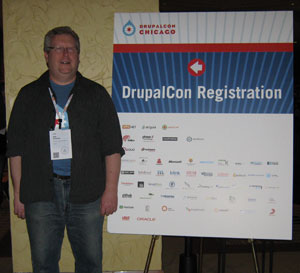 It's the day before the conference starts, the day when everyone, myself included, are arriving and checking in for DrupalCon. After breakfast this morning my Wisconsin friend dropped me off at the Sheraton Chicago, which is both the conference hotel and where I'm staying for the conference. I love it when I can stay in the conference hotel!
I wanted to take advantage of the "calm before the conference storm" and see a bit of downtown. If I had done this the "right" way I would have done some research ahead of time, but I let serendipity be my guide. I saw a twitter post about some group meeting up a burger joint named M Burger that was supposed to be really good. It was as good a direction to go as any. Turns out the place seats like 10 people and has some major line-ups. If the group made it there I missed them. The burger wasn't anything special but the chocolate milkshake was pretty good. Their vegeburger is called the "Nurse Betty".
People have commented on how they like the architecture of Chicago. From a distance it's kind of a visual cacophony of new and old. Wandering and driving around neighbourhoods I could appreciate individual buildings, and there's some beautiful ones. There's also a lot of nice looking public spaces and parks.
Oh, I also tripped over the Apple store. On a whim I went in and asked about the iPad 2s. They won't be in till Friday. I'm sure there will be quite a few DrupalCon folks in line.
I really hope I can come back to Chicago during the spring or summer to enjoy some of the public spaces and water front.
There's one other conclusion I've come to, Vancouver is so damn small.
Here's some photos from today.
The NBC building is just around the block

Major street, I think Michigan Ave

Lot's of bicycles here, too

Hole in the wall burger joint named M Burger
2 comments