Seattle's Airport Link
Yesterday I traveled through Seattle on my way to Chicago. To save a few beans I caught a plane out of Seattle instead of Vancouver. Originally I had planned on taking the Vancouver/SEATAC shuttle bus, but it turned Marina and her beau were headed to Seattle for the Emerald City Comicon (ECCC) so I hitched a ride to downtown Seattle. I figured I'd catch one of the hotel airport shuttles when I found out about a Seattle's new Link Light Rail system out to SEATAC airport.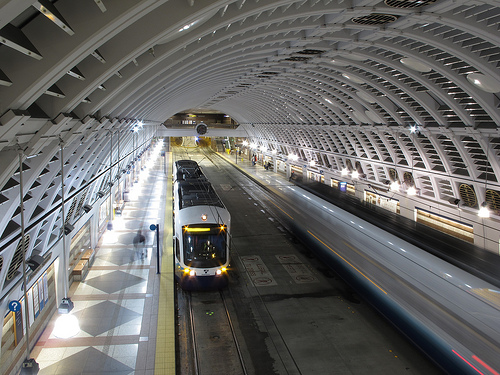 Photo by Shayne Kaye
The underground stops are worth a look all by themselves. The very high ceilings, circular tunnel entrances, and low curbs give them a unique look. Surprising (to me) the trains and buses share the tunnel.
Looks aside, the convenience of taking light rail to the airport is wonderful. Even better, it was $2.50 on transit instead of $15 for the airport shuttle.
Pure bonus, I also had a chance to grab a coffee with Seth and the crew who were also taking in ECCC. I wish all my travel days had these kinds of perks!

Photo by leff
2 comments