Whistler Film Festival 2014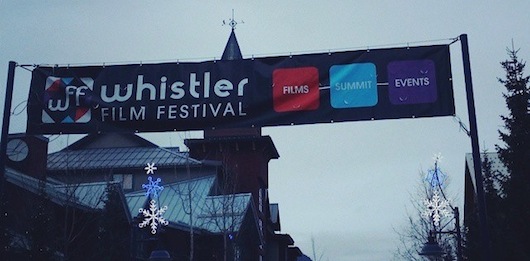 Photo by Marina Antunes
The Whistler Film Festival is one of my much anticipated yearly events. It's a four day event that usually runs the first weekend of December. The After the Credits podcast crew and assorted friends get a lodge room in the village from Thursday to Sunday and geek out watching film and socializing.
One of the attractions of the Whistler Festival is its human scale. All of the threatre venues are located in the Village and are within a five minute walk of each other and the lodge room. There isn't the Vancouver or Toronto Film Festival level of craziness to see a film. Tickets are usually easy to get and people are more laid back and generally pleasant.
Dale and Dan at

Zogs
Photo by Marina

Antunes
We have our traditions and favourite eating places. A visit to Zogs Dogs for hot dogs and/or poutine usually figures into the trip. Some of my other favourite eats include the Gone Village Eatery, Splitz Burger, and IGA food counter.
The Whistler Film Festival does have a few annoyances. The website is a horrible experience for ordering tickets and not worthy of the festival. This year I wound up buying individual tickets at the festival because I avoided buying a pass online for too long. Then there's dread Whistler Conference Centre Ballroom, the worst venue for movie watching. The chairs are terrible, the audio echoes, and in spite of a high ceiling the room design does not allow the screen to be placed high enough to see it over the person in front of you. This year, at least, they moved the projector behind some sound proofing so we didn't have the fan noise.
This year I had a very pleasant experience. A string of tickets fell out of my coat pocket during one of the screenings. I thought they were gone for good but someone turned them and I was able to get them back the next day. Thank you, kind person, whoever you are.
We have a Whistler wrap-up podcast coming up at After the Credits. I'll post the link when it's up (Podcast: After the Credits Episode 164: Whistler Film Festvial Wrap). Until then, here's some quick thoughts on the films I saw.
Lightning movie wrap-up:
Kill Me Three Times
Really liked. There were no totally good characters, they were all variations of bad, lots of fun. And Simon Pegg with a mustache!
Gemma Bovery
Life imitating art, specifically, Madam Bovery. A fun little movie, though a bit strange and stalkery in places.
I Put a Hit on You
After a fight with her boyfriend a woman uses the Internet while drunk and puts a hit on him. Great concept with lots of fun moments, but it couldn't keep up the energy and dragged in places.
What We Do in the Shadows
A mockumentary about vampires in Wellington, New Zealand. A lot of fun. The trailer tells you everything you need to know.
Merchants of Doubt
A documentary about tactics "innovated" by big tobacco and used in other industries. I know a lot of the content, so found points in the doc slow, but also got some insights I hadn't expected. Unfortunately, I also came away hating humanity. People suck.
A Life in Dirty Movies
A documentary about Joe Sarno, a director who set himself apart in the sexplotation film genre of the 1960s. The film is as much about his relationship with his wife as it is about his career. Totally not what I expected and really interesting.
Bang Bang Baby
A tongue-in-cheek story set in the sixties. A girl's dream of becoming a star is threatened by mutations caused by a spill at the town's chemical plant. This was a great concept that mashed rock and roll, horror, and a bit of fantasy into a unique film. The writer/director's skills weren't up to making this awesome, but they nailed the music and set decoration.