Topic "Centennial Beach"
Tucked away in literally the most southwest corner of continental Canada is Boundary Bay Regional Park and Centennial Beach [ Google Map ]. Last Saturday, after living in Vancouver for many years, I finally made it out to Boundary Bay for the first time. Some fellow SciFi fans and I were having some fun on a mini-road trip exploring Battlestar Galactica filming locations.
Boundary Bay does not fall under my definition of beautiful, but I was intrigued by the grassy low rolling landscape. It calls out to be explored with a promise of something interesting just over the next rise. The constant breeze coming off the ocean made it especially pleasant being there on a warm day. Bird watchers apparently love this place. Birding isn't my thing, but it was fun watching a pair of heron fly past. My visit there was far too short. I'd like to go back one day and walk some of the trails.
Here are the pictures from my visit. Clicking on the thumbnail gets you an enlarged version. In a couple pictures you'll notice some unnatural purples, there were no strange atmospheric happenings, just my insta-point-and-shoot camera getting confused.
Continue reading Boundary Bay/Centennial Beach - May 2009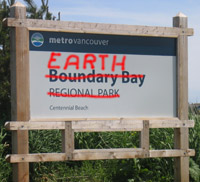 One of the kicks being a Battlestar Galactica fan in Vancouver is recognizing the local locations. Among the different events organized by the local BSG fan group, The 13th Colony, are location scouting road trips. It's the BSG fan version of geocashing, and a nice way to get outside. Yesterday we did a road trip to Earth, otherwise known as Boundary Bay Regional Park [ Google Map ], and checked out spots where some key scenes took place. As always, our magnificent President Val had everything organized, including screen-shots so we could match the landscape.
We were scouting three primary shots. Val already had two of the three nailed. The third? The episodes were shot two years ago in the fall or winter. Everything has grown and, being late spring, is green and leafy! I'm positive we're close but couldn't say for sure.
So here's the recon report.
Continue reading BSG Location Scouting: Boundary Bay - Our Poor Dead Earth