Topic "Chilliwack Buffalo Shoot"
The parental units are down from the Interior competing in the Chilliwack Buffalo Shoot. Buffalo shoot you say? It involves shooting black powder rifles and pistols, and throwing tomahawks and knifes. And not just on a range. There's a trail walk where you move from one target station to another. The target might be straw or moving metal silhouette. The 'Hawk & Knife involves more than just making the blade stick. A station might require a half or three-quarter rotation. And people wear period costumes.
But I digress. With my folks a mere hours drive away instead of the usual eight it's a no-brainer that I pop out there for a visit. After arriving the challenge is always finding the right trailer. Fortunately my parents 5th wheel is equipped with handy "make it obvious for Dale" graphics in the form of bears.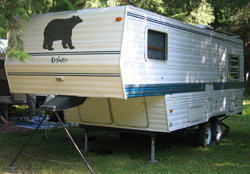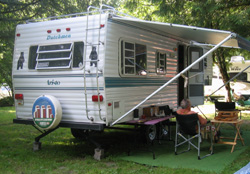 I got there just after the competition had finished for the day. Black power creates a lot of residue so the guns need cleaning after use. Unlike modern rifles which require a solvent, you only need regular soapy water with black power.
Guns attended to, we settled into a lazy after of catching up.