Topic "Coquihalla Highway"
One thing about spring travel north of Vancouver, you still need to plan for snow!
When I drove to and from Vernon I encountered snow flurries on the Coquihalla (Highway 5) and Kelowna connector (Highway 97C). On the trip up it wasn't sticking. On the trip back it was.
All told my trip back was still pretty tame. Nothing close to some of the knuckle biters I've had at Christmas and blessedly no black ice. The road was sloppy and wet, but I had positive traction the whole way. Even so, I passed a jack-knifed tractor/trailer rig and an abandoned car pointing the wrong way. Either it was slipperier early in the day, someone was driving too fast, or they weren't using winter tires. It just didn't seem that bad to me. I didn't even have to refill my windshield wiper fluid!
No pictures of the accidents, too busy driving, but I did snap this picture about 10km south of the Coquilhalla toll booths: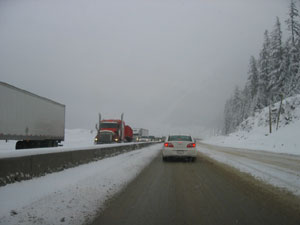 Click on the picture for full size.
Did you note the word adventure in quotes? Good.
I wasn't looking for an adventure, but one found me. On my way to a family Thanksgiving in Vernon my car developed a little problem ... I couldn't shift. Well, that's not exactly true. I could kind of, sort of shift if I didn't mind lots of grinding sounds and horrible thumps. And I did mind.
When it first happened just outside of Merritt I wasn't even sure there was a problem. There was a thump when I shifted, but I thought I'd hit a bump. As I turned off the Coquihalla Highway (Highway 5) onto the Kelowna Connector (Highway 97c), I knew the thump wasn't a bump.
Continue reading My Thanksgiving "Adventure"