Topic "Future Shop"
Future Shop has a reputation among my circle of friends as an indifferent big box retailer with sometimes poor after sales support. When I heard about a new "concept" store attempting to be customer centric my curiosity was piqued. Hoping that old proverb about curiosity and dead cats was on summer vacation I accepted an invitation to last night's unveiling party of the newly redesigned Future Shop at Park Royal.
The new store concept is a "Hub" where customers can see products in a bit of context and talk to product experts who aren't on commission. The hub, appropriately located in the center of the store, has four sections corresponding to different facets of lifestyle: Living, Playing, Working, and "On the Go". Each section has product displayed "Ikea" style (i.e., setup the way you might find in a home much tidier than mine). The store also contains an Apple store, staffed by Apple staff.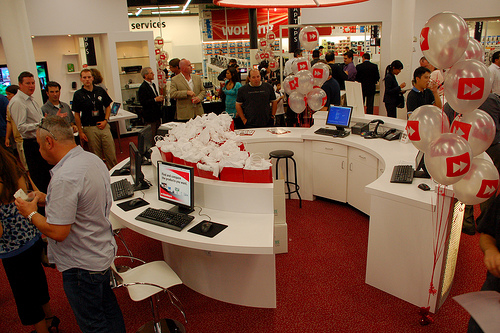 The new Future Shop "Hub" concept at Park Royal
Photo by penmachine
This was the first opening of any type I got to attend as "media", and I got the full attention of one of the Future Shop employees who'll be staffing the hub.
Continue reading Future Shop's New Future