Topic "gift exchange"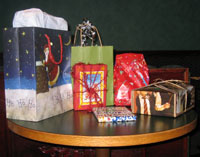 The Christmas season is upon us. Although the commercial trappings hit the stores before the Halloween ghouls finished their hauntings, I've managed to avoid the claptrap. It isn't that I'm anti-Christmas, I'm just anti-soul sucking, brainwashing, buy, buy, buy commercial bullshit.
Tonight was the first true event of the season for me, the BIFF gift exchange. Just a bunch of Science Fiction/Fantasy fans enjoying dinner, geeking out on their favourite subjects, and exchanging inexpensive gifts in a cut-throat (but fun) kind of way! The gift exchange was the kind where you can "steal" someone else's gift.
Continue reading BIFFmas Gift Exchange 2009