Topic "Joshua Ortega"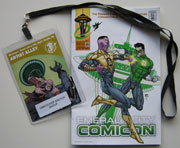 When you say the words: Comic books, science fiction, and road trip in a sentence you have my attention!
The 8th annual Emerald City Comicon (ECCC) was last week. I joined a couple friends for a weekend in Seattle to get my geek on at my first ever comicon. My interest in comics isn't big enough by itself to draw me south of the border. However, ECCC has a SciFi/Fantasy pop culture element which included talks by Leonard Nimoy and Wil Wheaton, both people I'd like to hear, and some interesting panels. I was in. Would I regret it?
Continue reading Emerald City Comicon 2010