Topic "LaFontana Cafe"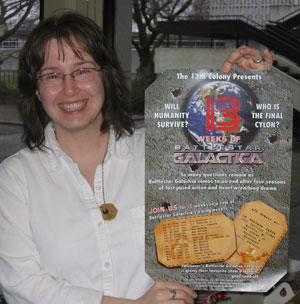 13th Colony Leader (and possible Cylon) Val
with "13 Weeks of BSG" Poster
The end is near for Battlestar Galactica fans! If you're in Vancouver, you don't have to experience it alone!
With rollicking good stories worthy of the Peabody award, a writer's strike, and the general insanity that is network television, it's been quite a ride for fans of the "re-imagined" Battlestar Galactica. And now we're at the beginning of the end. The start of 2009 brings the end of Season 4, and with it, the end of the series.
The local BSG fan club, The 13th Colony has arranged a special treat: 13 Weeks of BSG! It's 13 fan viewing parties, one a week, for the 2 Season 4.0 marathon refreshers and the 10 final episodes! And just for good measure, there's a final post-mortem get together to wrap everything up. I've even heard there will be prizes.
All of the viewings are at LaFontana Cafe, 3701 Hastings St, in Burnaby (Google Map). It's just a couple of blocks from the Kootenay Bus Loop on Hastings Street, so easy to access even if you don't have a car.
Continue reading 13 Weeks of Battlestar Galactica