Topic "pedometer"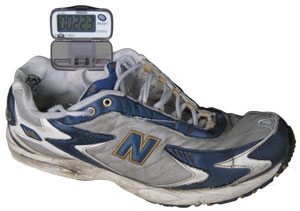 The human brain really sucks at measuring things without some sort of device. Unless you're Rain Man or practice, you're probably you're probably not going to be accurate, especially measuring over time. A simple test. How much money have you spent this week? How many cups of coffee, juice, tea, water or pop have you drank today? How many times have you used the washroom? How many steps have you walked?
That last question is the subject of this post.
When I started working from home the amount of "background" walking I did in a day plummeted. The commute from the bedroom to the desk just doesn't compare with walking to work, to the bus, or walking to and from the parking lot. Knowing my steps decreased I was curious to find out just how much walking I did in a day, so I bought a pedometer.
Continue reading This Pedometer was Made for Walking