Topic "performance art"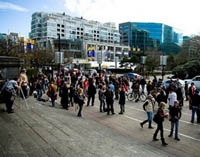 At the beginning of the month I posted a YouTube vid of a people freezing in Grand Central Station. Marina discovered a Vancouver version captured in this photo by Mark Klotz. Head over to her site for the video, and some other hijinks involving computers and Starbucks.
A friend of mine sent me a link to this video, it's pretty cool. Thanks, Gayle!
Background at Improv Everywhere.