Topic "Vancouver Film School"
Generally speaking I'm not the luckiest guy in the world, but I have my moments. Last Thursday was one of them! Esteemed Vancouver blogger Miss604 in conjunction with the Vancouver Film School (VFS) ran a contest: Oscar-Nominated District 9 Prize Pack and yes, yours truly won!
Winning contests is cool all by itself. Winning a District 9 contest is icing on the cake. Along with Moon and Avatar, District 9 is one my picks for best science fiction movie of 2009. It takes skill to make ugly aliens sympathetic, and VFS alums Neill Blomkamp (director/writer) and Terri Tatchell (writer) proved they have it.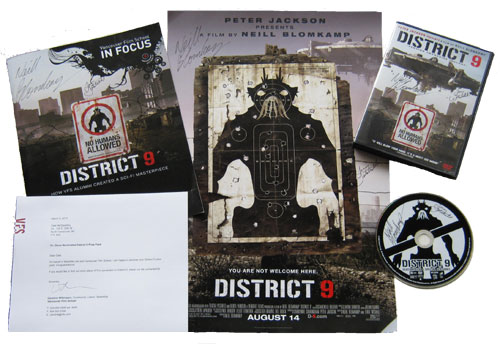 What did I win? A small poster, a VFS InFocus newsletter featuring District 9, and the DVD; every single one of them autographed by Blomkamp and Tatchell!
Thank you Miss604 for the contest, thank you VFS for the prizes, thank you fate for picking me, and thank you Neill Blomkamp and Terri Tachell for such a great movie!