Topic "waffle iron"
After posting pictures of my waffle iron plugged in there comes the inevitable question of: How good are the waffles?!
I regret to say the tool exceeds the chef's ability to use it. In fairness, I've only tried maybe 10 times since I inherited it, and 2 of those times were last week. And although my waffles aren't great, they're better than some restaurant waffles I had!
Here are some pictures from my most recent venture. Still working on that batter distribution thing.
My waffles definitely are not of the light and crispy variety, which is how I like them. I suspect I'm either using too much batter or don't have enough air in the batter (is that over mixing, or under mixing?). Or maybe I'm just not cooking them long enough. I thing I have found: a homemade batter recipe (compliments of Greg) better than the store bought mix I was using.
One very cool thing I discovered on the last go around is the waffles are awesome reheated in the toaster! They're actually almost better than fresh, they're crisper! Even frozen, they reheat great. Here I thought there was something special about those pre-frozen toaster waffles. Nope!
I see more research and experimentation in my future. Waffle Quest: Search for Crispiness.
And no, I'm not quitting my day job to become a food photographer!
What's the oldest appliance in your kitchen? Mine is this Sunbeam waffle maker. It's at least 40 years old, and quite possiblely older. One of my earliest memories is Dad making waffles on this bad boy. We lived in Surrey till I was 9, and it was a kind of golden age of waffle making in the McGladdery household. I don't remember a lot of use after we moved.
One of the things going for its longevity might be light use. Waffles weren't an every day, every weekend, or even every month occurrence. But I think this was simply a good time to buy Sunbeam appliances. My parents also had this cool Sunbeam toaster - when you put the bread in, it lowered automatically! - of the same vintage that got almost daily use. That puppy lasted something like 25 years. Regardless of whether it's luck or workmanship, I'm impressed this waffle iron lasted.
I inherited the waffle iron around 10 years ago. With my Dad's loss of waffle interest after Surrey I tried my hand every now and then growing up. Apparently of all the sibs I was only one who had showed any interest; I suspect I was only one to remember my Dad's waffle prowess. Anyway, with a gleam in their eyes my folks arrived, 11 pounds of waffle iron in tow, stating the waffle iron had adopted me.
This is a beast of an appliance, definitely not apartment friendly! They didn't have your typical apartment counter top in mind when they designed it. 'Ware the cupboards when opening, and ensure nothing else is on the counter!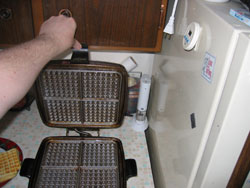 As I was writing this I got curious and decided to see what I could find in a quick Google search. I'm the proud owner of a Sunbeam CG Waffle Iron. It has its own, albeit very short, Wikpedia entry: Sunbeam CG. There's even a place selling reconditioned models: Toaster Central It was introduced in 1955, no mention of when production stopped. Looks like I have a classic!
I feel strangely compelled to name it, now . . .